Statement Of Qualifications
As an Alaskan company established in 1968, M-W Drilling Inc. is extensively diverse and experienced in drilling, construction, and service of water well systems.
M-W Drilling Inc. (M-W) regularly performs many specialized drilling projects for the construction, oil field, mineral, and pipeline industries.  M-W has completed in excess of 5,000 new wells for private landowners, commercial developers, municipal water, utilities, oil companies, and government projects. 
The company owns and maintains five rotary rigs, three cable-tool rigs, and two well service trucks with hoists.  This shortens lead time for project completion and allows quick response to emergency situations.    M-W offers a quality crew of expert Mechanics, Drillers, Drill Helpers, Welders, and Pump Technicians ready to mobilize for any drilling related, construction, oil field, and/or groundwater project.  M-W's Drillers and Supervisors have 15 to over 50 years of experience in the ground water industry. 
M-W is distinguished to be Alaska's only Certified Master Groundwater Contractor (MGWC).  This certification, attained through the National Groundwater Association, is currently held by about only 60 contractors of the approximately 20,000 contractors nationwide. See more information below.
M-W has operated in the states of Alabama, Arkansas, California, Louisiana, New Mexico, Texas, and Hawaii.  M-W, a disabled veteran owned business, regularly bids and performs projects which are reserved for small businesses and qualifies under the definition thereof. 
In projects of current and unique interest, M-W has successfully completed a number of slant thaw bulb wells on the North Slope and Yukon River areas. Typically these wells are drilled on a 20-30° slant into the thawed material below the mudline of lakes and rivers.
Further documentation is available upon request.
Also, see the article published in National Groundwater Journal below.
About Certified Master Groundwater Contractors
The National Groundwater Association recognizes individuals who have proven exceptional knowledge and experience in the water well industry by designation as Certified Master Groundwater Contractor. Eligibility for the certification exam requires at least 15 of 17 specified certifications; business longevity; no violations; and recommendation by 3 industry principles. The 4-hour exam is mostly essay questions to prove skill and competency in all aspects of water well systems, construction, operations, diagnostics, water quality/sustainability, and business management.
Visit NGWA.org for more information.
About Slant Drilled Water Wells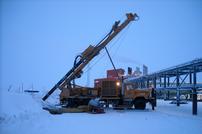 The northern-most wells in North America are slant wells
that M-W Drilling pioneered.
Wayne Westberg arrived in Alaska with his first well drilling rig on August 9, 1968. His now 50+ years of extensive experience is summarized in his resume. Undoubtedly, it really should be elaborated into a book!
Wayne's son, Kris Westberg, has been out in the field with M-W Drilling Inc. since he was just a fascinated child. Fast forward many years, and Kris is the Vice-President of the company and when not immersed in office responsibilities, he's supervising drilling in those same fields.